Hello my friends! I wanted to first do a recap on the recent events in the nursery. So much has happened, starting with baby Tony's (Gideon sculpt) fundraising auction! Thank you everyone for your bids and in helping to make life just a tad easier for Chloe's family. With great honor and the most respect I share our winner of our sweet boy was the one and only ORIGINAL SCULPTOR, Dawn McLeod!! Wow! How incredible to have had the opportunity to bring one of Dawn's sculpts to life and send him back home to join her personal collection. Not only raising some money for sweet Chloe but to have had the sculptor contribute to such a great cause! Thank you my sweet friend!.
It fills my heart knowing little Tony will be part of such an amazing group of babies. As we say goodby to little Tony, the anticipation for Dawn's next sculpt to come is growing! We have already pre-ordered a few of these upcoming limited edition Sterling sculpts. Sterling will be one of our biggest babies yet, measuring 23″ long! This sleeping beauty truly has captured my heart! I can hardly contain my excitement in bringing this BIG baby to life! We just need to wait for a couple months before this nugget is released.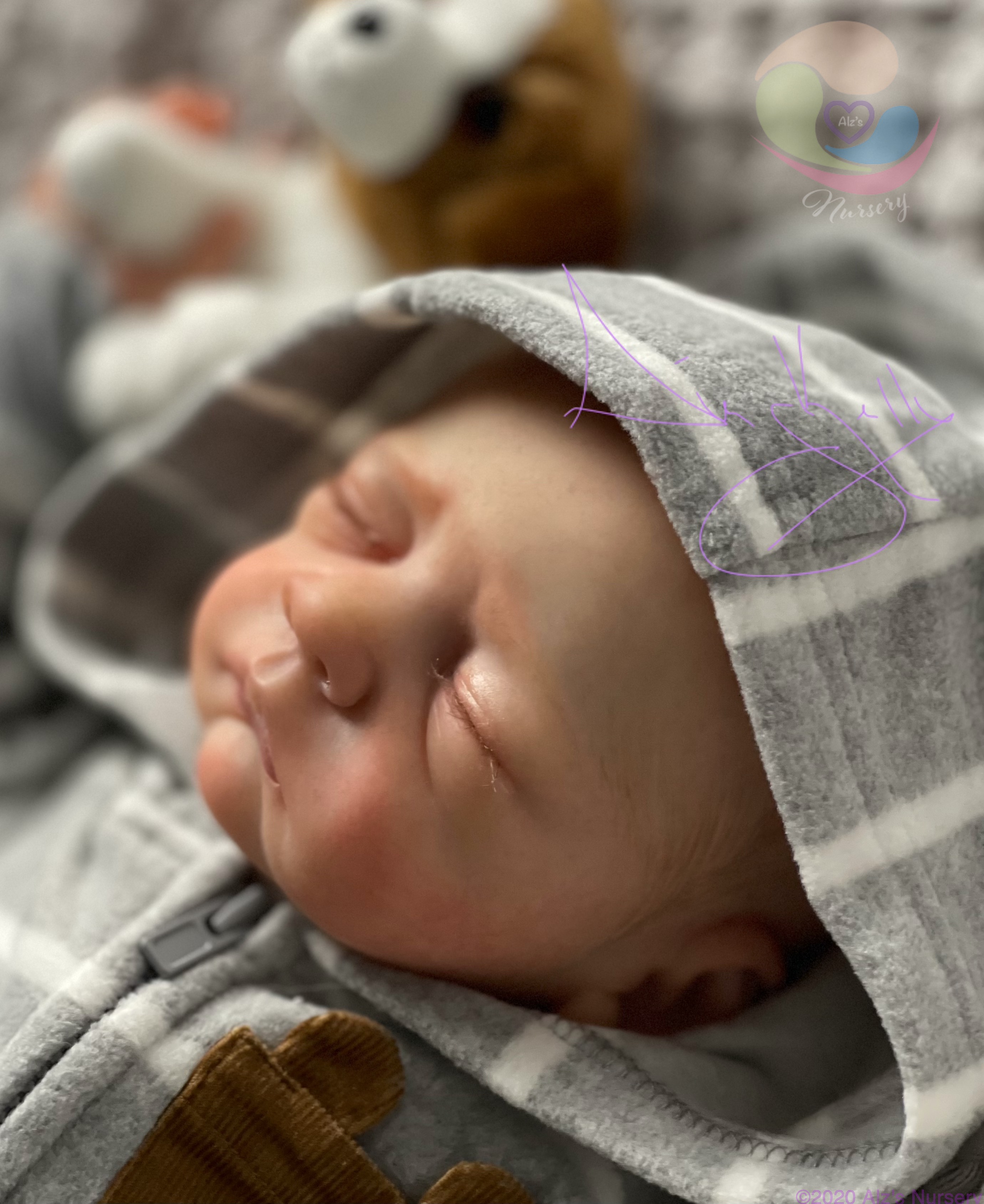 On January 12th we named our latest baby to be gifted, Oliver James! Thank you Pam Dilts for the great suggestion!! As a special thank you for having her name drawn in the "Name Game", we sent out a $50 gift certificate that she can use towards her next purchase. If you don't want to miss the opportunity to possibly name our next baby, make sure to like and follow our facebook page to get the latest updates.
Oliver will be shipped off to his new Grandpa in the coming days. We are just waiting on a special little something to arrive in the mail that we wanted to include in his box opening:) So to his new family, we send you all, many blessings of love & hope that your Papa will find comfort and peace in his new little buddy.
After all the excitement of giving away the last of the three babies over the past couple months, disaster struck the nursery! We ended up having a major catastrophe causing lots of water damage to the backside of the nursery on the lower floor, the upstairs level and the electrical room. Thankfully the new nursery was spared and we can continue on creating lots of beautiful babies! Regardless we are in full swing and busy busy busy!! Currently we are booked out for customs through the end of April into mid May. I will however, continue to release ready to ship babies between customs. The next available baby coming up will be beautiful Biracial Aisha by BB. She will be 19″ with 3/4 arms and legs making her perfect for posing and snuggling! Check out the shop page for a peak at what she could look like when done.
Let's talk hair for a minute. Holy cow does our newest baby to be gifted, have the most amazing hair!! This little portrait baby is the Ana awake by BB. She is being painted and created in the likeness of a very special girl, Chloe. To read more about Chloe and her family click HERE. This little beauty's hair is being created using a combination of shades of dark blond, strawberry blonde and a baby brown. This Mohair is so silky and soft and has the most beautiful wave. We have decided to use Southern Charm Mohair to help to create the most realistic and gorgeous heads of hair for all our sweet babies. Southern Charm offers variations in texture, lengths and curls using the most high quality kid, yearling and adult mohair from their Angora goats. Terri and Kelly have been absolutely amazing to work with! I highly recommend them.
Well my friends be well and have a beautiful end of your winter months!
Cheers,
Ginger