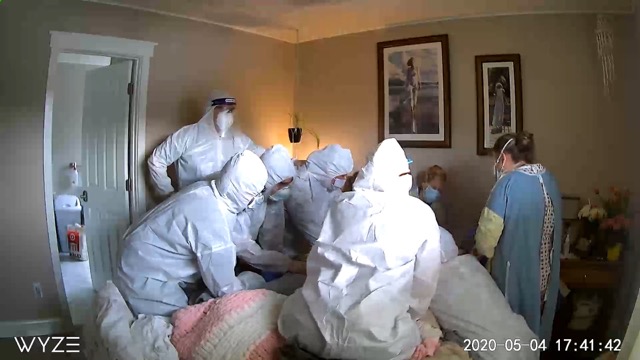 On May 4th 2020 at 5:41pm with a pain so incredibly deep and heart so completely shattered I said, "see you later for now Mama"…
My loving, funny, goofy, happy, beautiful, fun, sweet, spicy and a little saucy best friend joined her beloved husband Gary just one week and two days after having received the results she was COVID-19 positive.
"Just one week and two days ago this beautiful soul was up to mischief being goofy laughing, smiling and having fun with her family while we visited her outside her window.
Kelly
was knitting a white fluffy blanket while sitting in a chair, visiting and chatting with her Onnie. I sat on the sidewalk drawing silly chalk drawings with all her favorite colors of her choosing. Listening to her giggling over the Alexa app I had on my phone, tucked into my pocket. The sun was shining down and everyone was happy… Just barely over a week ago life surged through every vein in my Mama's body…
I can't even begin to explain the anguish our family felt while laying our hands covered with surgical gloves and our bodies covered in plastic or gowns, on Mama/Granny Onnie one last time. Tears filling our masks under the fogged covered face shields. We looked over our beloved Mama and Granny. Trying to get out all the right words to let her know she was so incredibly and deeply loved, safe and not alone. Desperately telling her how she was right about everything and everything will be ok… Pouring our hearts into prayers while I anointed her with holy water and gave her a final blessing.
A stillness washed over her in a way I find hard to explain. All her anguish and pain disappeared. All the stress melting away from her face, leaving this beautiful woman in a peace like no other. As she gazed around the room her chest silently rose and fell slower and slower. The room filling with the loudest sounds of cries, for she will be so deeply missed.
My incredibly strong and devoted sister put the stethoscope around her neck. Holding the bell she placed the chest piece against my Beautiful Mama's heart. Refusing to let Mama leave this world without feeling the skin of my hands holding hers, I ripped off my gloves and squeezed tight. Watching her chest rise and fall one last time. Ever so softly my sisters beautiful blue eyes lifted, filled with tears saying, "she's gone".
With the sharpest of pain piercing my chest gasping and choking with tears I press my lips against the inside of my mask to Mama's forehead. So filled with a crushing anguish because I couldn't give my Mama's sweet soft skin one more kiss with my lips. I turn and run into the arms of my husband, collapsing from pure heartbreak and falling to the floor. My poor sister comes behind me taking my Mama's oxygen after switching the tube and placing it around my face. All I could think was this is Mama trying to bring me comfort one last time…
With much compassion and love our family unanimously wanted to share this most intimate moment with you my dearest husband found on our granny cam. To teach the world a lesson. COVID is not the flu, it is not just another germ. It is a life shattering pandemic spreading among those we love dearest. Leaving most to unfortunately die alone in a hospital or care facility. We were the lucky ones to help make Mama's passing from this world to the next, the most loving, comforting and compassionate one as possible.
So live your life as full as possible but please, please, please do so with the proper precautions necessary to protect those that we love from never having to go through this torture again."
I will forever and always love you Mama.
Your Baby Girl