"I literally can't even express how grateful I am that you are willing to help my mom who you don't even know it makes me cry! I am literally crying while writing this email because my heart was just breaking watching my mom struggle."
Jane Doe
GIFTED REBORN THERAPY DOLLS
If you would like to nominate someone to receive one of our gifted therapy dolls, things to be aware of before making a nomination;
You can not nominate yourself.
The person your nominating must have a confirmed diagnosis of some type of Dementia or Alzheimer's.
We must receive written consent from the primary caregiver to be able to give a baby to their loved one. 
First priority will go to those in a long term care facility or memory care as they do not have the support some still have that are still able to live at home.
We must have the person's full name and address of where they live to be considered to receive a gifted baby.
The baby will be shipped only to the recipient of the gifted baby.
Watch While we Paint and Root LIVE on TikTok
Come watch your little one come to life! Make sure to follow us to be notified when we go LIVE!
JOIN US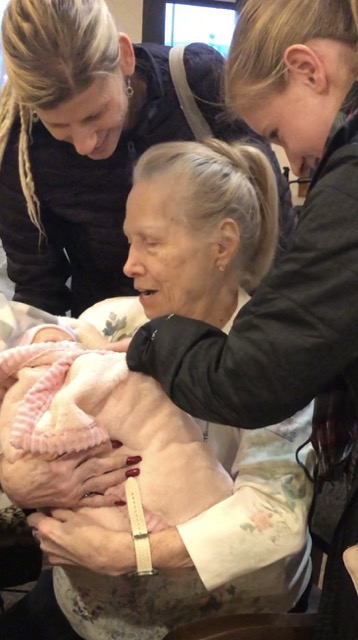 So what exactly is a therapy doll and how do they help? Let me help you understand the benefits of using therapy dolls. First of all, one in three seniors die with Alzheimer's or another type of dementia. Most often times these loved ones reside in a memory care or nursing home without the daily support from family. So why would we not do everything in our power to make the last days of their lives as peaceful, calm and happy as possible while they struggle in their confusing world. 
What are Therapy Dolls? 
Therapy dolls are created using hyper-realistic painting and or rooting techniques simulating what a real baby would look, feel and even smell like.
Each baby is custom created and weighted to the recipients needs.
Typically dolls range in weight anywhere from 1-6 pounds.
Depending on the individual we add a sweet baby scent to the dolls, giving them that fresh newborn baby scent.
With all the combined techniques the dolls act much like sensory objects do for anyone with disabilities helping calm and redirect negative feelings or behaviors. With the added benefit of the sensory stimulation they provide they also help in many other ways.
Some of the benefits of using these dolls include:
Therapy dolls have been proven in some cases, to help reduce stress and give a sense of calmness while holding them.
Studies also show therapy babies reduce the need for some medications, that help anxiety and agitation.
In our Alzheimer's and Dementia community these dolls also help give a sense of purpose and help our loved ones to be able to focus their thoughts.
When holding a therapy doll the weight, scent, and look of the dolls (being so life like) act as a natural trigger in the brain inducing a dopamine effect. Giving the person a sense of security while they hold the baby. 
With Alzheimer's and Dementia, the oldest memories are the last to go. While our loved ones hold these babies, they help stimulate long lost memories. Reminding our loved ones of happier days.
Therapy dolls are not just for our beloved Alzheimer's and Dementia community. Therapy dolls help many others who have multiple struggles such as anxiety, depression, infant loss, autism and countless other issues. 
In summary, therapy dolls help a wide range of people creating many positive outcomes.
Our newest gifted baby "Daisy" LE sculpt Dinah by Talita Pinheiro, brought to life by:
Ginger Kelly with Alz's Nursery.
Donated to "Reborns with Reason"