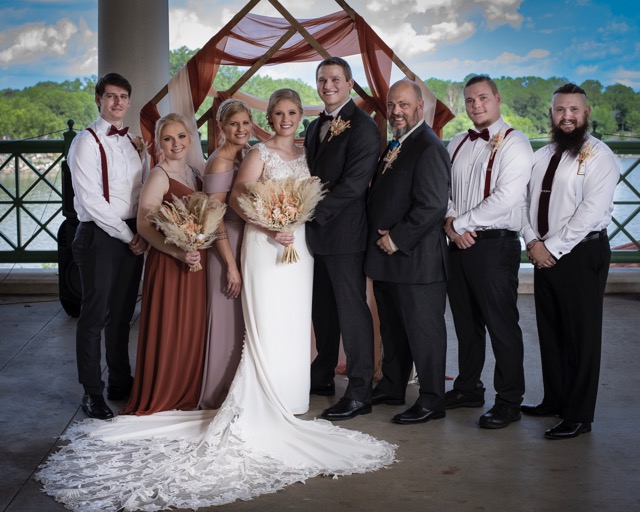 The past several months have been jam-packed with running around, planning, fixing, building, and a million other things! To start my beautiful daughter Kelly and her handsome Groom Jacob finally tied the knot!! I was fortunate enough to have officiated the wedding, Mother to the bride. And having had the best front row spot ever! Getting to witness every single emotion wash over my daughter and her now husband's face, Truly, was and will always be such an incredible experience. Not many Mamas get to see so closely;)
As the day approached we were expecting record high temperatures. Everyone was a bit skeptical wondering how everything would turn out. Thankfully the temperature was manageable and the most beautiful sun shower cascaded in the background during her wedding. only having lasted a short time. However, all our guests remained dry and comfortable under the pavilion. We all were enjoying what turned out to be a perfect day with our friends, families, and loved ones.
During the midst of preparations for the wedding, our household was a constant revolving door. Finally, we had been getting the necessary repairs done from the kitchen disaster. Resulting in gallons of water destroying everything in its path. In addition to the already crazy commotion around the household, we ended up having our air conditioner completely call it quits! So as you can imagine our chaos, was never-ending, always running around.
With the wedding having wrapped up, I was also able to get the twins finished up and delivered to their new Mamas. in addition, we also had gifted little Ashia to a very deserving Papa and Mama. So, I feel pretty accomplished having had everything get done on time!
As we move into August I will be starting two new customs, Maria by BB and Skya by BB. I'm also working on our next ready-to-ship baby, Sterling sculpted by Dawn McLeod. Lastly, I'm narrowing down a couple of sculpts that I will use for our next Gifted baby. This little one will be painted in the likeness of the real baby, sweet Devin Lynn!
We are so excited to have had several other sculpts arrive that I'm just itching to get started!! So lots of babies are in the works! Currently, customs are booked out through December. But, don't worry if you're trying to get your hands on one of our babies! I'll be working on lots of ready-to-ship babies to have available for you!
Lastly, holy cow we have been growing! As we continued to grow I felt it was time to dedicate an entirely new Facebook page, devoted just to our baby boutique. So for all of you, super fans make sure to like and follow the boutique, "Alz's Baby Boutique" to hear about all the new items coming out! I'll also be having special Facebook promotions only available to our super fans! "Alz's Nursery" page will continue to focus on the beautiful babies we create and those that receive them.
I value your feedback so let me know how we're doing, and what products and sizes would be most beneficial to you.
Thanks again to all of you who continue to make Alz's Nursery so special!!
Cheers,
Ginger Kelly